2021 Ken Kennedy AI and Data Science Conference Kicks off This October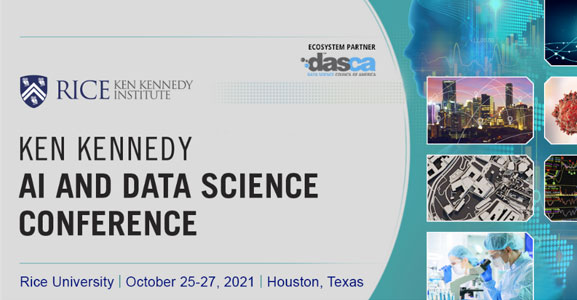 Invited keynote speakers, Technical programs, Student poster presentations, an Outdoor networking reception, and more…
The 5th annual Ken Kennedy AI and Data Science Conference is scheduled to take place October 25-27, 2021 virtually. This annual conference is for professionals and practitioners working in machine learning, deep learning, data mining, artificial intelligence, or big data problems broadly.
The agenda for the conference includes invited keynote speakers, technical program, sponsors, student poster presentations, and an outdoor networking reception. Conference registration will be free, thanks to our sponsors!
This year there will be an exciting line up of invited speakers. The conference will kick off with Carlos Westhelle, CTO of NASA, Rama Akkiraju, a Fellow at IBM, and Brian Van Essen with Lawrence Livermore National Laboratory. There will be an exciting lineup of speakers highlighting AI for Good projects with Megan Price, Executive Director of the Human Rights Data Analysis Group, Kathy Ensor and Farès el-Dahdah with Rice University discussing how to use data and urban analytics for disaster recovery, and Rodrigo Ferreira with Rice University.
Wednesday, October 27 will be an in-person add-on day with a technical workshop highlighting deep learning and high-performance computing with Alex Smola, VP of AWS, and Anshumali Shrivastava with Rice University.
This conference with a mixed audience intends to create a venue for networking, collaboration, and partnership building. The Data Science Council of America (DASCA) being the ecosystem partner for the event and recognized as the developer of the world's definitive credentials in data science will help foster collaboration and networking.
Call for Participation:
The Ken Kennedy Institute invites interested parties to submit an abstract in consideration for giving a talk in the technical program of the conference and Wednesday workshop. Abstract submissions are due September 3.
Students and post docs are encouraged to participate in the conference Poster Session to present research that is relevant to the industry. Submissions due October 6.
Registration for the conference will open September 7. Visit ai-datascience.rice.edu for more updates!