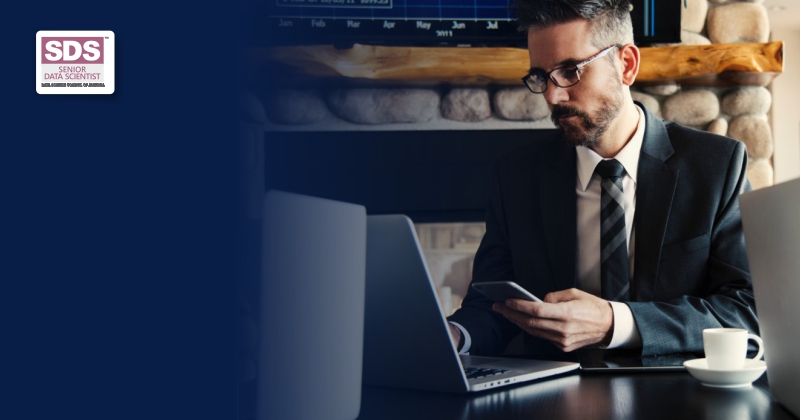 Across the world, organizations from all sectors and of all sizes are constantly accumulating data of different kinds. The 'Data Never Sleeps 6.0' report by DOMO suggests that on an average, each person on this planet generates 1.7 MB of data every second. This data is a veritable treasure trove of insights that potentially could guide organizations to great market success.
How important are data scientists in this regard?
Here is where a data scientist comes into the picture – to mine the data and extract valuable strategic insights. And companies realize their importance. According to the US Bureau of Labor Statistics (BLS) data, data science will create around 11.5 million jobs by 2026. Further, data scientist jobs are expected to rise by 15 percent every year through to 2029, a rate far exceeding other occupations.
SDS™ – a top choice for data scientists with a compelling vision
For a data science professional looking to take up data scientist roles, the Senior Data Scientist (SDS™) certification from the Data Science Council of America (DASCA) is a top choice. The SDS™ certification program prepares data science professionals for high-tech leadership roles in data. The SDS™ program is based on a knowledge framework developed by the most exemplary data science industry leaders of the world. And attaining this qualification is the first step on a successful learning journey and ultimate progression to tech-leadership roles in data science.

Key features of the SDS™ certification program are below:
Flexi-learning : Self-paced synchronous DASCA knowledge framework crafted by leading global big data solution providers to meet industry learning objectives
Online exams with global access : Delivered on the rigorous ExamStrong™ platform and available across 183 countries
Digital badging : SDS™ digital badge to display in electronic form on social media, email signatures, and others
SDS™ credential case : Tangible recognition with an SDS™ certificate and lapel pin
Who should apply for SDS™?
As a premier qualification in the field of data science, SDS™ is well suited to the following applicants:
High-impact big data specialist with more than five years of experience and preparing to take on challenges during the move into leadership roles
High-potential big data professionals with undergraduate degrees in applied mathematics, business, economics, management, marketing, mathematics, and statistics from accredited institutions
Click Here to Know More About Eligibility Criteria
How can you apply for SDS™?

The SDS™ journey begins with checking eligibility requirements for the exam. After you complete the online application and pay your fees, you will receive the preparation material in a few days. You can then prepare for and take the SDS™ exam within 1-6 months of the fee payment. After you achieve the minimum qualification grade, you receive the digital award immediately, and the SDS™ credential case is dispatched in due course.
#LearnAtHome – the best time to apply for SDS™!
Data science is a dynamic industry, and it is crucial for you to learn continuously to stay relevant in the job market. Professionals often complain about not having enough time to learn or add new skills. However, with many cities worldwide in lockdown mode in defense against the pandemic, now is an excellent time to put that extra time at home to good use and take up SDS™ to boost your data science skills.
This June, DASCA is running the #LearnAtHome campaign for experienced data science professionals. Sign up for the Senior Data Scientist certification in this period and get a 25% discount. Click here to know more!
Get on the growth trajectory!
Grow your research and analytics career by becoming a certified Data Scientist. Sign up for the #LearnAtHome campaign today, and join thousands of data science professionals who have advanced their careers with the SDS™ certification.