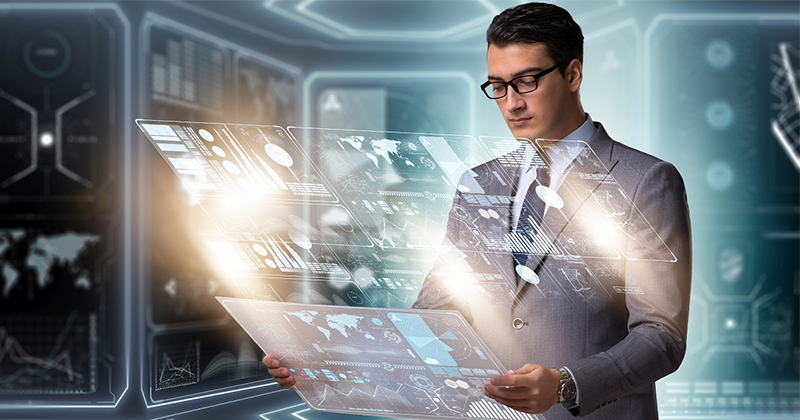 "The best-laid plans of mice and men often go amiss" – a saying by poet Robert Burns.
In January 2020, most businesses laid out ambitious plans, covering a complete roadmap to steer organizations through the months to follow. But to our dismay, COVID-19 impacted the world in ways we could never imagine, proclaiming pointless many of these best-laid plans.
And to avert the crisis, organizations had to become more adaptable seemingly overnight.
As the pandemic continues to disrupt lives, markets, and societies at large, organizations are seeking mindful ways to pivot and weather all types of disruptions.
Big Data Trends in 2021
Big data has been and will continue to be a crucial resource for both private and public enterprises.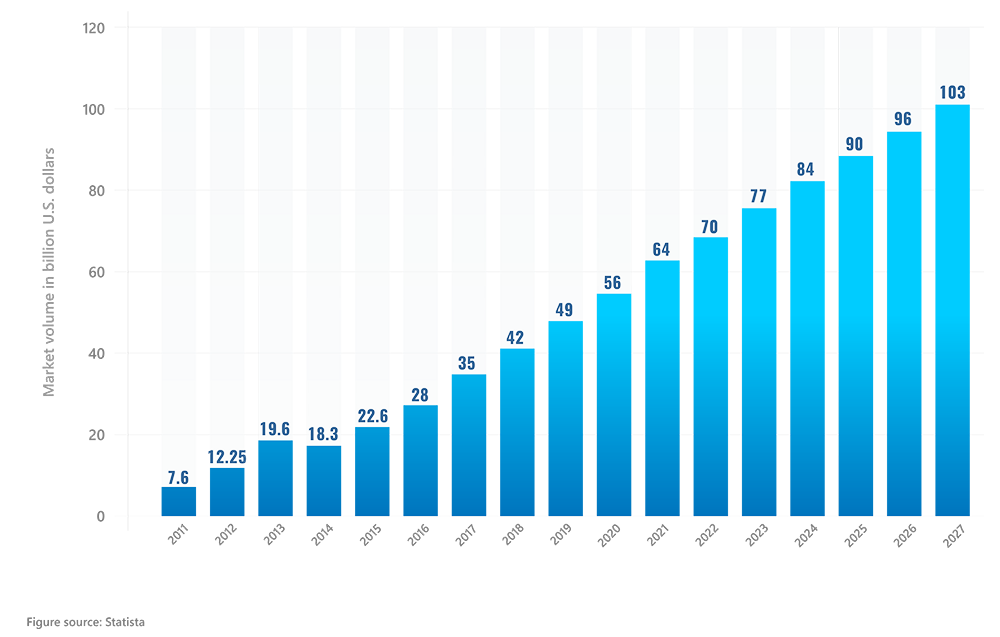 A report by Statista estimated the global big data market to reach USD 103 billion by 2027.
Despite the benefits big data promised over these past years, it is only now that those promises are coming to fruition. Here are seven top big data trends organizations will need to watch to better reinforce and secure disrupted businesses. Have a look at the summary of those trends:
1. Cloud Automation
Capturing big data is easy. What's difficult is to corral, tag, govern, and utilize it.
NetApp, a hybrid cloud provider, sees cloud automation as a practice that enables IT, developers, and teams to develop, modify, and disassemble resources automatically on the cloud.
Cloud computing provides services whenever it is required. Yet, you need support to utilize these resources to further test, identify, and take them down when the requirement is no longer needed. Completing the process requires a lot of manual effort and is time-consuming. This is when cloud automation intervenes.
Cloud automation mitigates the burden of cloud systems – public and private.
Artificial intelligence (AI), machine learning, and artificial intelligence for IT operations (AIOps) also help cloud automation to review swaths of data, spot trends, and analyze results.
Cloud automation, along with AI, is revolutionizing the future of work by offering:
Security
Centralized governance
Lower total cost of ownership (TCO)
Scalability
Continued innovation with the latest version of cloud platform
2. Hybrid Cloud
Hybrid cloud is paramount to improve business continuity.
Most organizations are skeptical about sharing data on the cloud for multiple reasons: poor latency, security, privacy, and much alike. But with the hybrid cloud, components and applications from multiple cloud services can easily interoperate across boundaries and architectures. For instance, cloud vs on-premises and traditional integration vs modern digital integration. The present big data industry is converging around hybrid clouds. Therefore, making it an intermediate point for enterprise data to have a structured deployment in public clouds.
One of the major benefits hybrid cloud offers is agility. The ability to adapt quickly is the key to success for current businesses. Your organization might need to facilitate both private and public clouds with on-premise resources to become agile.
Hybrid clouds can:
Build efficient infrastructure
Optimize performance
Improve security
Strengthen regulatory compliance system
3. Hyperautomation
Listed as one of Gartner's Top 10 Strategic Technology Trends for 2020, the term 'hyperautomation' will continue to be significant in 2021.
"Hyperautomation is irreversible and inevitable. Everything that can and should be automated will be automated," says Brian Burke, Research Vice President, Gartner.
Automation, when combined with technologies such as AI, machine learning, and intelligent business processes, achieves a new level of digital transformation. Moreover, it helps businesses automate countless IT and decision-making processes.
The core components of hyperautomation are:
Robotic process automation (RPA)
Business process management (BPM)
Advanced analytics
AI and machine learning
RPA is also referred to as the foundation stone of hyperautomation, and the technology is anticipated to grow to USD 25.56 billion by 2027, according to Grand View Research.
With remote work on the rise, organizations have been pushed to the brink to adopt a digital-first approach. This instilled fear among employees since it started impacting the way they work, leading to a spike in security concerns: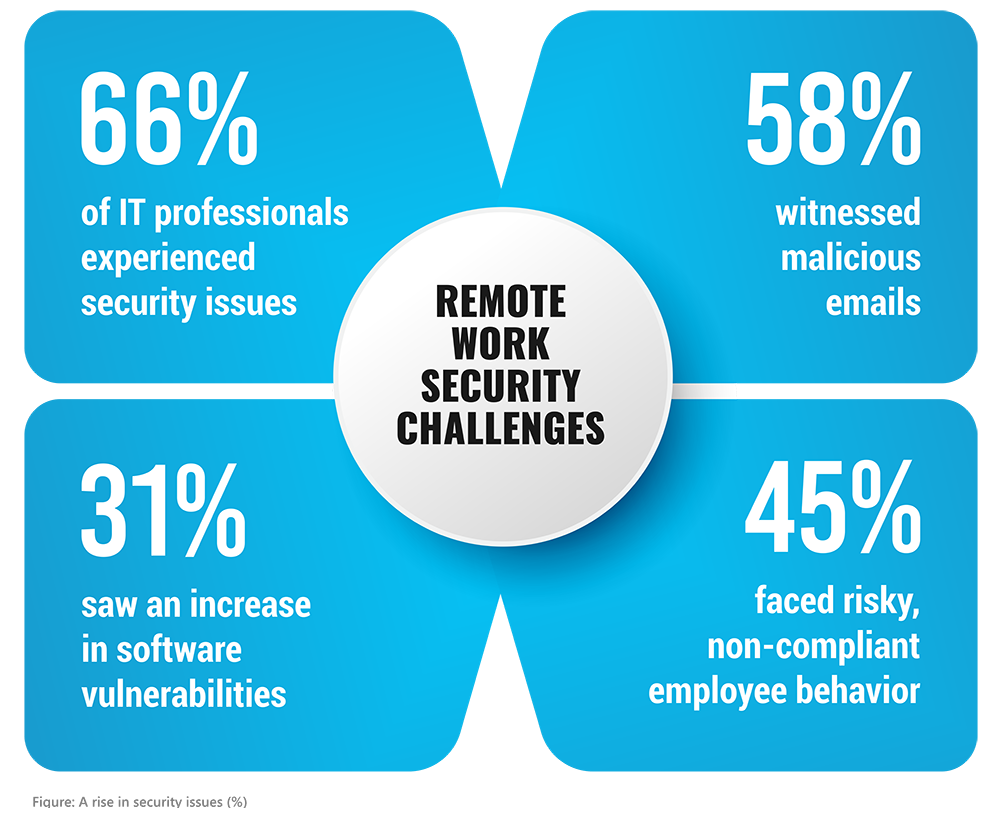 Further use of hyperautomation can easily resolve 80 percent of threats even before any user can report them, says Security Boulevard.
4. Actionable Data
There is no reward for an organization owning large amounts of data that are not useful. You need to transform raw data into actionable insight to help businesses make informed decisions. This can be possible through 'actionable data.'
"What big data represents is an opportunity; an opportunity for actionable insight, an opportunity to create value, an opportunity to effect relevant and profitable organizational change. The opportunity lies in which information is integrated, how it is visualized and where actionable insight is extracted." – CIS Wired
The need to glean accurate data and information that further establishes relevant insights for decision-makers is critical for business impact.
Big data will continue its rise in 2021. This might be the first year where we will experience the potential of actionable data.
5. Immersive Experience
The immersive web is already undergoing a sudden change we believe will shape 2021.
"Everything that is on a smartphone will soon be possible in XR, and in addition, a range of new applications will be invented that are only possible using VR/AR," says Ferhan Ozkan, co-founder of VR First and XR Bootcamp.
The future of the immersive web is set to take flight by virtual reality (VR) and augmented reality (AR), also called immersive experience.
In 2020, we experienced a year with a drastic impact on digital entertainment, on apps like Discord, TikTok, and Roblox. Despite being early iterations of immersive web, this trend will be further driven by Gen Z.
Lockdown measures implemented in 2020 have accentuated this drastic shift, more so bringing forth an opportunity for businesses to take charge of the interests of society.
6. Data Marketplace and Exchanges
By 2022, most of the online marketplace will attract nearly 35 percent of large organizations to stay connected by making them become sellers or buyers of data, predicts Gartner. Top companies like Acxiom, White Pages, and ZoomInfo were already selling data for decades. But with emerging data exchanges, you can easily find platforms to integrate data offerings even from a third-party, e.g. SingularityNET.
This trend will definitely accelerate the rise of technologies like data science, machine learning, deep learning, and the cloud.
7. Edge Computing
Edge computing will go mainstream in 2021, predict Gartner and Forrester.
"Edge computing is entering the mainstream as organizations look to extend cloud to on-premises and to take advantage of IoT and transformational digital business applications. I&O leaders must incorporate edge computing into their cloud computing plans as a foundation for new application types over the long term." – Gartner 2021 Strategic Roadmap for Edge Computing
Many organizations are pushing toward implementing edge computing, to gain benefits like greater reliability, increased scalability, improved performance, and better regulatory compliance options.
The continued rise in utilizing data by technologies like VR, AR, and 5G networks will further drive the growing demand for edge computing.
With organizations switching to remote work globally, many have shifted from traditional servers to cloud computing services to boost security, while some have started turning to edge computing to reduce latency, increase internet speed, and boost network performance.
Stay certified and get ready for the big data change in 2021!