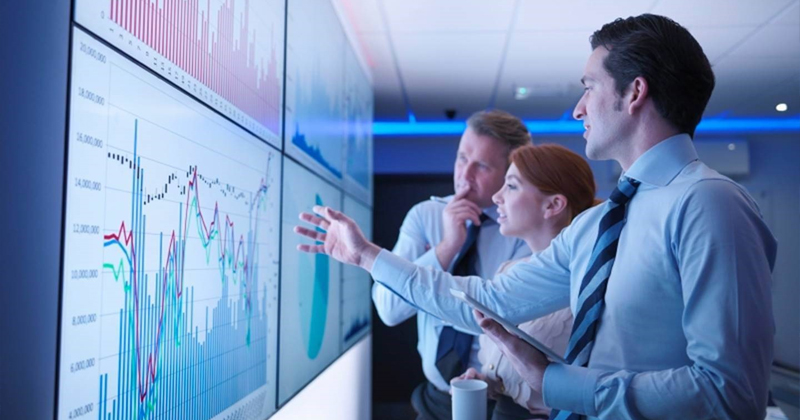 Big data is a database and its usage and dimensions differ depending on the job roles. Let's discover the three popular career paths in big data here.
The primary focus of business leaders is to reduce the time and costs of accomplishing results; to simplify and speed up the reconciliation process; to reduce the overall audit burden; and get early indicators of the potential or existing frauds in the system. Big data solutions can come in handy for them.
The big data functions range from back-end system administration to front-end business analysis. As a result, the jobs in big data are spread across the technically inclined and less technically inclined professionals such as data scientists to analysts with marketing skills and everything in between.
To get your abilities up to the level of the expectations of business leaders, identify what is required for a job, assess yourself, and find gaps in your candidature.
If you are in your early professional career, working toward adding more skill sets and filling the gaps can work wonders for you. Let's understand the different types of big data job roles – particularly business analysts, data scientists, and software engineers here.
Big data jobs for business analysts
Big data is changing the way we do business. This has influenced the traditional role of business analysts too.
The role of business analysts is becoming more technical, but they need not do programming.
Business analysts with knowledge of big data analytics are also known as Business intelligence analysts.
Who are they? They are highly analytical data enthusiasts who are expected to envision a bridge that can fill the gap between business and technology.
The biggest opportunity area to excel in this career lies in improving your ability to communicate information to decision-makers. Business analysts who can convert data into business opportunities and recommend action will win the race. Because, when data gets translated to action, then only we can see the business value.
What should they possess? Big data business analysts are expected to understand big data technologies, principles, and its impact on business.
A perfect balance of analytical ability and technology is expected of business analysts in addition to the traditional skills such as people management, fluid communication, and strong presentation skills on and off the whiteboard.
For Data Analysts, the analytical skills are focused on business problem-solving frameworks rather than database programming. A few in-demand skills requirements popular in Business or Data Analyst jobs include the ability to:
Develop analyses leading to actionable insights by consulting with marketing, logistics, and customer service team
Wrangle data from multiple sources including sales, inventory, product, and customer databases to create an integrated view and use it as a base for decision making
Work with complex SQL databases and simplify them to derive information for business value
Design and build reports and analyses in Microsoft Excel
Understand the appropriate technologies, software, or hardware necessary to fulfil business requirements
The best approach to big data analytics is to have a question or hypothesis perspective. Business analysts must –
Possess industry expertise or ability to collaborate with industry experts
Identify the most valuable questions to explore
See beyond the surface issues for any business problem
Drive hard to get an answer for the question
Explain the big data benefits to the CFO
Help the marketing manager to see the business impact
Employers want problem solvers. Identify the essential skills you want to learn for this role apart from a business degree. Pursuing a big data analytics certification can help you bring analytics to business decisions and find answers for action that can drive results.
Big data jobs for data scientists
Data scientists are tasked to take a business idea or hypothesis and model it with numbers and data. Data scientists consider the recommendations of business analysts to build the technical case, create mathematical models, discover patterns, trends, and correlations.
While business analysts depend on data to think and build a hypothesis, data scientists take the business concepts, ideas, or hypotheses and see beyond the surface issues when constructing a model that is driven by numbers and data concepts.
Creating a path-breaking solution, developing and implementing advanced algorithms and data pipelines from structured and unstructured data sets is a challenging task indeed.
Who are they? Data scientists' efforts range from data exploration and investigation to modeling analytics systems. Data scientists are expected to –
Provide big data solutions such as statistical modeling and quantitative solutions
Translate business cases to research projects and use data for business benefit
Collaborate with geographically distributed tech and non-tech teams
Mentor on data and analytics solutions to deliver results
New In-demand Skill Machine learning is becoming one of the prime data science skills for data scientists today to utilize massive data at a faster rate and effectively. Statistics, data mining, mathematical and data-driven modeling, machine learning, research and development are becoming the everyday tools for a data scientist.
Upskilling is necessary for young professionals and aspirants who want to become data scientists in high-standard organizations. DASCA's Senior Data Scientist (SDS™) certification will help you to level up your game and gain a command on the required skill sets.
Big data jobs for software engineers
Software development in the big data world is not static. New technologies, languages, frameworks, and techniques keep evolving. Coding is no more an 'in-silo' job here. In several big data software development projects, shifting from scripting language [Python] to Hadoop customization in Java is becoming a norm.
To thrive as a big data engineer, it is necessary to keep learning new techniques, frameworks, and understand cloud services as well.
Who are they? Big data engineers work with smart engineers to address challenging data science problems. Their typical job role involves proposing and analyzing new algorithms, researching and designing experiments, integrating algorithms into production, and working with cross-functional teams such as business leaders, product managers, and big data analysts.
What should they possess? Big data engineers are expected to-
Efficiently use latest JavaScript libraries
Apply latest web technologies
Develop rapid prototypes
Analyze operational capabilities
Develop innovative scientific simulations
It's crucial to stay updated with industry trends and new technologies to succeed as a data engineer. Earning industry-related big data certifications in engineering would help you get employer attention. Keep your knowledge and skillsets latest as per global industry standards.
Conclusion
The job market is seeing a significant uptick for jobs related to big data professions. Business leaders are racing to hire experts who can help them find new value and insights from the humongous data they collect.
Carve your niche in this exciting career field by exploring varied big data career paths, understanding your zeal, and filling the gap in your current skills.