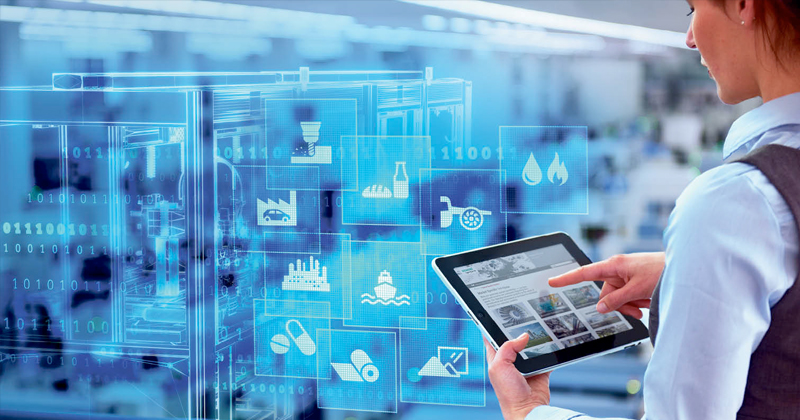 Several organizations are adapting to the new wave of technologies such as automation, the Internet of Things (IoT), Artificial Intelligence (AI), and Machine Learning (ML). However, the success in its adoption will be seen only when they get data management right. A proportionate growth to explore data is crucial as raw data cannot transform businesses.
Data cannot be a competitive differentiator, unless and until it creates an impact on customer experience, operational efficiency, product improvement, and revenue streams. Poor data may lead to a loss of USD 9.7 million per annum, Gartner reports. Along with financial loss, businesses can see missed opportunities, higher-risk decision-making, and loss of reputation.
"If we don't get data right, we may not even realize it until it's too late."
-Anthony Scriffignano, Chief Data Scientist, Dun & Bradstreet
Needless to say, data science plays a key role in extracting value from data – structured, semi-structured, or unstructured.
Definition of data science from Techopedia: "Data science is the field of study that refers to the collective processes, theories, concepts, tools, and technologies that enable the review, analysis, and extraction of knowledge and information from raw data."
The interdisciplinary field of data science includes Machine Learning algorithms, Predictive Analysis, Statistics, Computer Science, Inference, and new technologies. Let's understand the business value of data science in detail.
The business value of data science
Data science enables businesses to measure, track, and record performance metrics. It allows organizations to combine existing data with other data points, identify the target audiences, and arrive at useful insights. Studies suggest that the global data science market will grow to USD 115 billion by 2023. Take a look at the business benefits, data science can bring. Data science helps:
Physicians to analyze data from wearables and ensure their patients' well-being
E-commerce players to improve customer experience and retention
Banking and financial services to detect frauds and provide personalized financial advice
Transportation providers to improve the transportation journeys of customers
Construction companies to make better decisions while tracking activities
To interpret seismic graphs and characterize reservoirs by analyzing graphic data, temporal data, and geospatial data
To leverage social media content and obtain real-time consumer patterns
To study utility consumption in the energy and utility domain
In brief, data science brings value to several industry verticals.
Moving forward, let's understand the processes and tools in data science. Raw data is like crude oil, precious to business, but needs transformation to derive value. You can have an integrated view of business operations only when data gets lined up in a specific format.
Data transformation process
To turn data into business value, it is important to understand how you can use the available data and compensate for missing data. It is essential to deduce and fill out the missing data. In this effort, you may have to sync different sets of data too. It's not as simple as collecting it. Interpretation of collected data helps to see the real results. The data transformation steps are briefed as follows.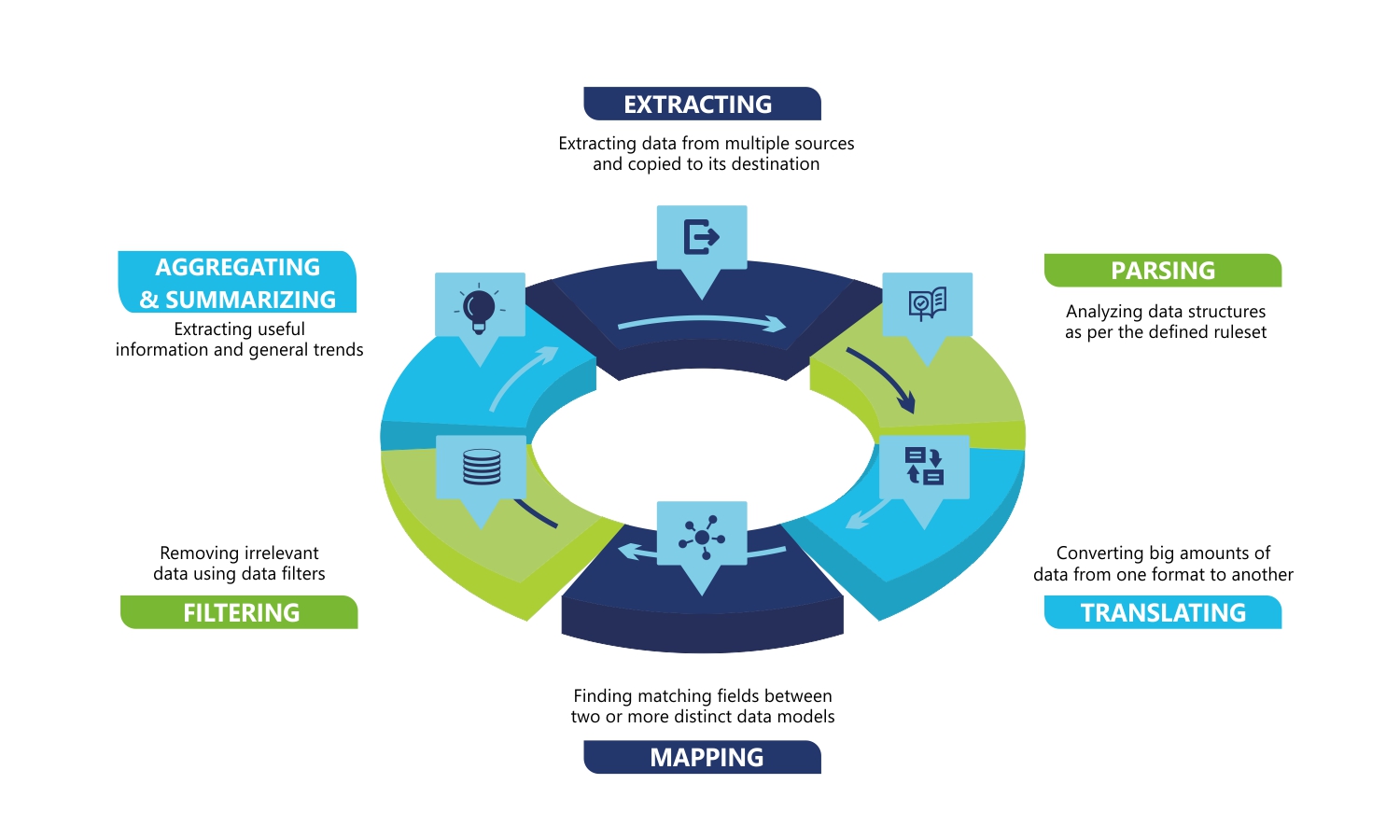 Data containing personally identifiable information can be encrypted further. Some of the tools used include: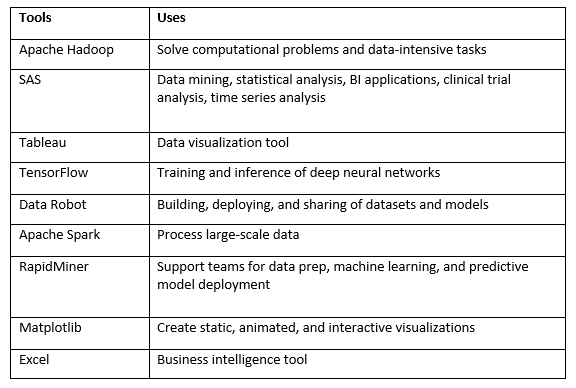 There are certain foundational positions important to extract the full business value of data. Resorting to cloud services is one that facilitates organizations to deliver new capabilities with their existing skill sets. Take a look at the survey conducted by Harvard Business Review – Analytics Services.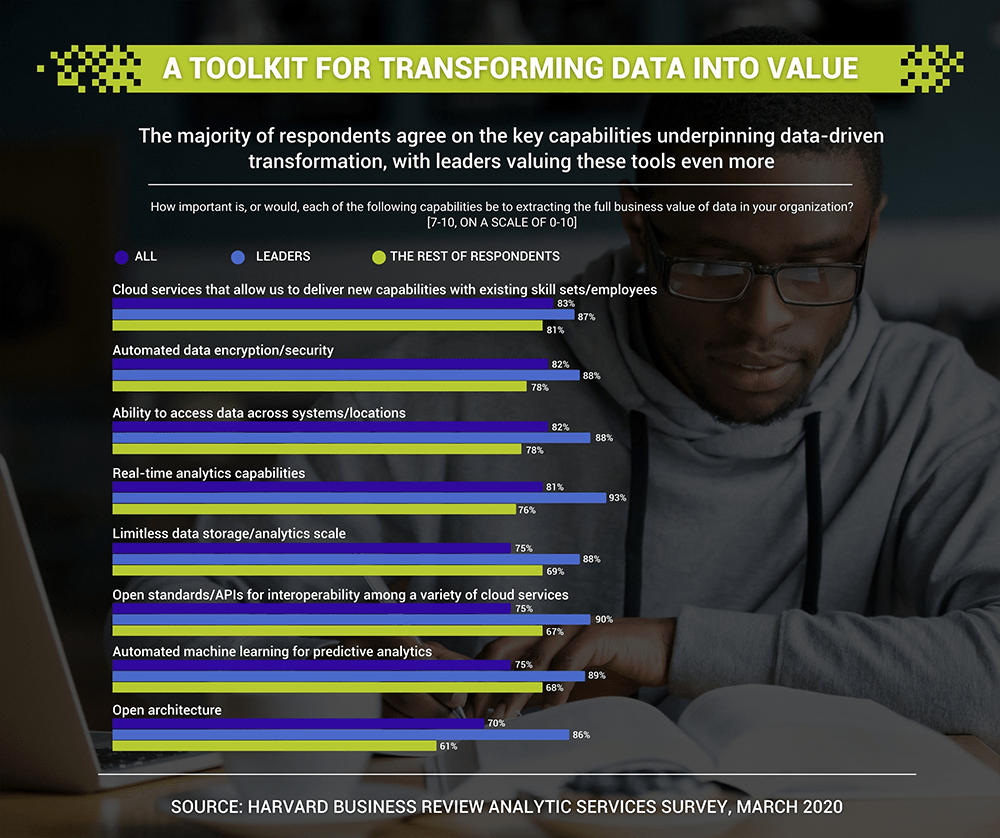 Having said this, did you ever wonder, who are doing this for an organization? They are these data science warriors!
The data science warriors
Behind the scene, there operates a big team of data science comprising data scientists, data analysts, and data engineers, among others. Get introduced to them.
Data scientist
A data scientist is mainly responsible for collecting, analyzing, and interpreting humongous data. They are primarily involved in
Designing and building new data set processes
Determining ways to improve data and search quality
Developing prototypes, proof of concepts, algorithms, and custom analysis
Data analyst
A data analyst acquires information for specified topics or domains. They are actively involved in
Collecting customer requirements
Determining technical issues
Identifying new data sources and methods
Improving data collection methods
Reporting data to meet customer requirements
Big data engineers
A data engineer develops and translates computer algorithms into prototype code. They are actively involved in
Developing technical solutions to improve data access
Identifying, organizing, and maintaining trends in large datasets
Aggregating and analyzing data sets for actionable insights
Developing tools and reports as per business case
Core skills of a data science team
Each one of the team members has a specific role to play. You can distinguish the skills of a data analyst, data engineer and data scientist in our previous blogs. The core skills of a data science team are listed here.
Programming skills
Statistics
Multivariable calculus
Linear algebra
Data wrangling
Data visualization
Machine learning
Communication skills
Acquiring data science skills
If you are looking for a rewarding data science career, then get acquainted with the necessary skills. Most universities today are offering graduate programs in data science and its related skills for young graduates. If you are a young professional, then opting for data science certifications would be the right choice so that you can continue earning while you learn. It will not break your career journey.
Choose the best data science certifications available in the market. Conduct market research thoroughly about the job description and skills necessary for those specified positions and choose your data science certification that helps you learn those skills. Every industry demands a certain level of expertise and refines your professional portfolio accordingly.
Key takeaways
To evolve and thrive in the digital economy, it is imperative to derive value from data faster.
Organizations must build end-to-end data science workflows to meet their specific challenges, and stay ahead of the competition.
A perfect data science team with augmented intelligence will enable an organization to create new and disruptive business models, and deliver exceptional customer experiences.