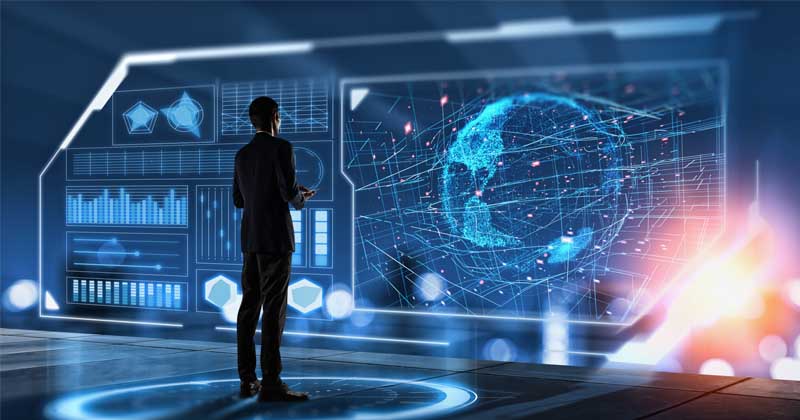 "Data is The Driver of the Information Age", says Craig S. Mullins. Data analytics is no more a buzzword, but a critical part of an organization's soul and its mission. Only through data analytics, businesses can transform their business strategy, improve operational and marketing modules, and deliver exceptional products and services to clients. So, industry leaders are looking forward to those data analysts who can work with and leverage data for business benefits.
Data analysts need state-of-the-art techniques at the current point in time.
Problem solving is the quintessence of what a data analyst has to do, and creativity is a foundational ability to solve problems. The industry looks forward to contemporary data analysts with trailblazing skills to proactively identify opportunities and also comprehend with several risk factors.
Business leaders agree to the fact that data is the potential source of valuable insights that could make their business decisions informed and better.
As suggested by Forrester reports, businesses that rely on data are 58 percent more likely to beat their revenue goals.
A recent report by Gartner shows that leaders are seeking out opportunities to implement data analysis into their business processes and share data success stories across the organization.
Today, 79 percent of companies use analytics. According to a research survey, 40 percent of respondents reported that they observed the benefits of using analytics for operational cost savings (44%), sales improvement (32%), and improved knowledge of customers (45%). They say the biggest benefit of using analytics is strategic decision-making.
Businesses are finding more ways to inflow data, improving their storage capabilities, and looking forward to hiring specialists in data analytics who can mine their humongous data. Rightly, this is spurring the demand for certified data analysts across the globe.
Benefits of earning data analyst skills through certifications
Whether you are a novice or an experienced data science professional, investing in a data analytics certification would be your best bet if you want to become the data analytics specialist the industry needs!
Investing in exams, certifications, and training can seem like a challenge when expanding your knowledge is a hobby and not something you do for career advancement. You can simply read books, study on your own, or find a mentor. However, when careers are at stake, people look for global certifications that speak volumes about your contemporary skills. Then, they don't have the luxury of unlimited time to prepare for growth opportunities. Worse still, if the medium chosen does not provide the skills and knowledge required for a job, you will not be able to ace the interview and end up losing the opportunity.
Stay current with the industry trend
Obtaining a data analyst certification will enable you to stay current with market developments. The secret to broadening your knowledge base is to learn something new every day. Being a working professional would prevent you from having the time to learn these topics from various sources. Therefore, it's best to enrol in a course of study that leads to professional certification. Even your employer will benefit from you doing this in the long run.
Become eligible to work in various industries
The skills developed by obtaining data science credentials will help you work in new industries such as finance, retail, healthcare, and entertainment. Additionally, there are countless opportunities for certified data analysts. To be precise, a number of nations, including the US, Germany, the UK, France, Italy, and India, have been steadily hiring data scientists and analysts.

With a data analytics certification, you may be able to apply for jobs as a data scientist, project manager, statistician, solution architect, business intelligence expert, and more. The skill sets acquired in one business or nation are easily transferable to another. Therefore, you are not restricted to a specific industry and can later investigate prospects in another area.
Get noticed by hiring managers to land highly coveted roles
A whopping 77 percent of leading companies believe that data analytics is essential to the expansion of their businesses. In your role as big data analytics professional, you will be evaluating a vast amount of data in order to derive important business insights that could significantly affect a company's marketing and policy decisions. Earning certification is like the icing on the cake that shows that you are serious about your career. Also, many professionals have a minimum of 2 certifications these days. With globally recognized certification, you will get easily noticed by hiring managers.

In a Microsoft study, 91 percent of hiring managers stated that certification was a key factor in choosing candidates. There are many profitable options for those with a respected data analytics certification, but earning one is not simple. When you possess the necessary qualification, your resume will undoubtedly stand out from the competition. Employers now have another motive to make an investment in you because of this.
Validate your skills
Vital skills like probability and statistics, linear algebra, multivariate calculus, programming, cloud computing, data wrangling, and machine learning are highly preferred by organizations for data analysis. Organizations prefer data science professionals who have earned certifications from well-reputed institutions or organizations that validate these skills. It is evidence of your high standards of education.
Get on-the-job learning
On-the-job training allows you to learn new skills while earning a living. You need not leave your job for a certain period to upskill yourself as most of the certifications are online with self-paced learning options. The other approaches waste a lot of resources and take valuable labor away from other positions that could be filled. In the end, earning an online data analyst certification and working simultaneously makes more sense to create a combined approach, reducing the overall expenses of in-person training and travel.
Increase your salary
A candidate with a certification always earns more than his non-certified peers and gets promoted easily. While there are many factors people consider when choosing their careers, it's impossible to ignore that money is generally a core factor. According to reports by Indeed, the average yearly pay rate for data analysts is USD 60,273. But as experts in the field of data analytics develop and gain more experience, their pay tends to change accordingly. An industry professional with a more senior role, such as data scientist, typically earns USD139,840 a year. Typically, professionals in this salary range have professional certification beyond a four-year college degree.
As a first step toward your goal, you should know:
Who is a data analyst?
What are the main responsibilities of a data analyst?
What skills do data analysts need?
How much do data analysts make?
Who is a data analyst?
A data analyst translates data into actionable business insights. They empower organizational leaders to make better-informed decisions by telling stories with data.
If you are a problem solver, then the data analyst job is a fit for you! So, what are your responsibilities?
What are the major responsibilities of a data analyst?
The major responsibilities of a data analyst include:
Mining and cleaning of data
Designing and maintaining data systems
Troubleshooting of potential issues
Preparing reports
Communicating the findings to leaders and key stakeholders
What skills do data analysts need?
You need these soft skills and hard skills for the following purposes. A data analytics certification helps you to gain most of the hard skills mentioned here. You should hone your soft skills through experience.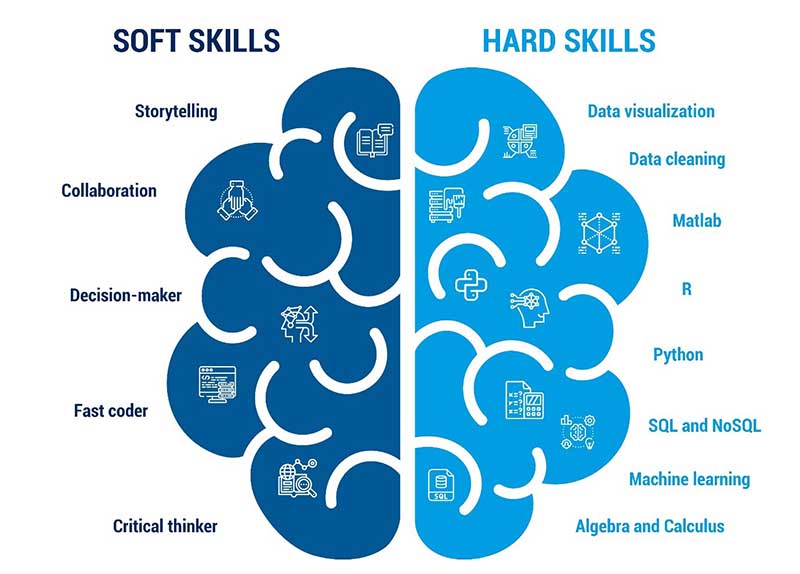 Soft skills required:
Storyteller: Deliver a meaningful report
Fast coder: Surf huge datasets rapidly
Collaborator: Collaborate with other team members
Critical thinker: Analyze data, identify the pattern and extract actionable insights
Decision-maker: Summarize the data and solve the business problem
Hard skills required:
Data visualization: Help decision-makers understand complex ideas at a glance through illustrations.
Data cleaning: Prepare data for analysis by removing/modifying incorrect, incomplete, irrelevant, duplicated, or improper data.
Basic understanding of MATLAB: This is a must that helps to cut down the time spent on pre-processing data.
Having knowledge of popular programming languages like:

R: Handle complex and large quantities of data.
Python: Stay current in an increasingly AI-concerned professional landscape.
SQL and NoSQL: Handle data in relational and non-relational databases.

Machine learning: Learning machine learning concepts helps you to become competitive in the hiring field by being able to solve complicated problems.
Microsoft Excel: Automate commands and features to analyze data better.
Algebra and Calculus: Theoretical knowledge is essential to understand what underpins real-world analytical practice.
How much do data analysts make?
LinkedIn reports the average income for data analysts in the US is USD 90,000. Based on experience, region, industry, firm type, etc., analysts can make up to USD 125,000 annually. In addition to your income, you may also be eligible for annual bonuses and sign-on bonuses.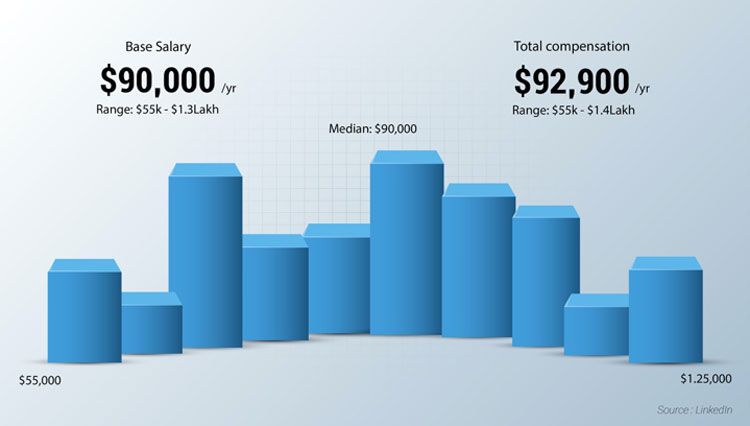 Below explained are some data analyst job roles based on their salaries:
Data scientist
Job description: Gather, purge, classify and arrange huge data. Determine how to accomplish this more quickly and successfully.
Career path: Depending on the field of study data scientists can go for visualization of data, Business intelligence, data mining, and database administration.
Annual salary: USD 105,000
Data analyst
Job description: To give actionable insights for important business choices, gather, examine, and analyze data.
Career path: Financial or marketing analyst, technical analyst, programmer analyst, analytics supervisor and data scientist.
Annual salary: USD 65,000
Data engineer
Job description: Build the infrastructure and architecture used in data generation. Design and construct information systems.
Career path: Data scientist, big data engineer, and administrator of databases
Annual salary: USD 97,000
Building a data analytics career with DASCA
DASCA's big data analytics certifications are among the most prestigious credentials available globally for today's market researchers and business graduates wishing to start or advance in the highly lucrative big data analytics industry.
DASCA offers two levels of global certification programs in the Big Data Analyst Track: The Associate Big Data Analyst (ABDA™) and the Senior Big Data Analyst (SBDA™) credential.
Associate Big Data Analyst (ABDA™): This is for graduating students interested in pursuing an analytics career in the Big Data arena who have majored in business, management, economics, statistics, or related fields.
Senior Big Data Analyst (SBDA™): This is intended for individuals with experience in analytics, marketing, and research who want to enter the Big Data sphere as well as for those who are already working in the field and want to advance more quickly in their professions.
The probe here is why ABDA™ and SBDA™?
Holders of the DASCA Big Data Analytics credentials demonstrate a formally validated and in-depth knowledge of how to apply concepts, technologies, and tools of operations research, statistics, applied mathematics, and RDBMS in the context of big data for efficient business and marketing decision-making.
Professionals who hold ABDA™ and SBDA™ certifications reassure prospective employers that they are capable of managing large volumes of diverse data, designing models for analysis, understanding the value of subject data for business intelligence, and migrating and visualizing big data as required by assignments and objectives.
Both these credentials are built around a robust and research-backed structure created after years of research on evolving analytics requirements across sectors, technological developments, and the changing dynamics of the Big Data industry. Therefore, both ABDA™ and SBDA™ holders sharply address the ever-changing expectations and needs of employers and clients worldwide and make themselves invaluable resources for their companies.
Ultimately:
Getting the finest data analytics job or growing in your career today requires reassuring employers about your capabilities, promise, and potential to be a competent professional. And that's exactly what a DASCA Credential does!
Establish your superiority in Data Analytics by earning DASCA's Big Data Analytics Certifications.