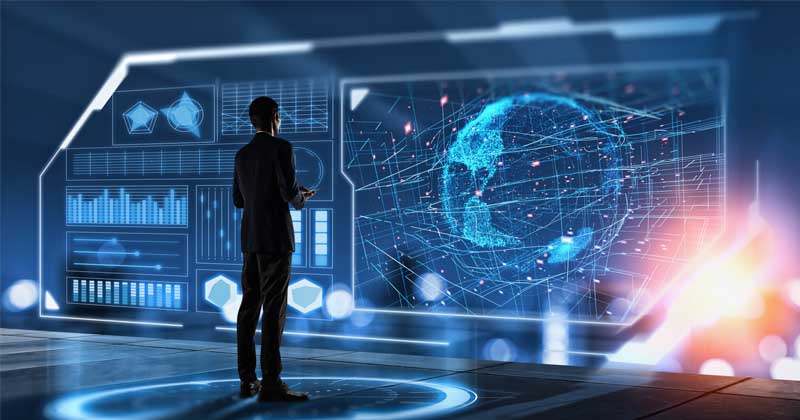 "Data is The Driver of the Information Age", says Craig S. Mullins. Data analytics is no more a buzzword, but a critical part of an organization's soul and its mission. Only through data analytics, businesses can transform their business strategy, improve operational and marketing modules, deliver exceptional products and services to clients. So, industry leaders are looking forward to those data analysts who can work with and leverage data for business benefits.
To be the data analyst the industry looks forward to, a data analytics certification might help!
Business leaders agree to the fact that data is the potential source of valuable insights that could make their business decisions informed and better. Businesses that rely on data are 58% more likely to beat their revenue goals, Forrester survey reports.
Leaders are seeking out opportunities to implement data analysis into their business processes and share data success stories across the organization, Gartner reports. Today, 79% of companies use analytics. According to a research survey, 40% of respondents reported that they observed benefits by using analytics for operational cost savings (44%), sales improvement (32%), and improved knowledge of customers (45%). They say the biggest benefit of using analytics is strategic decision-making.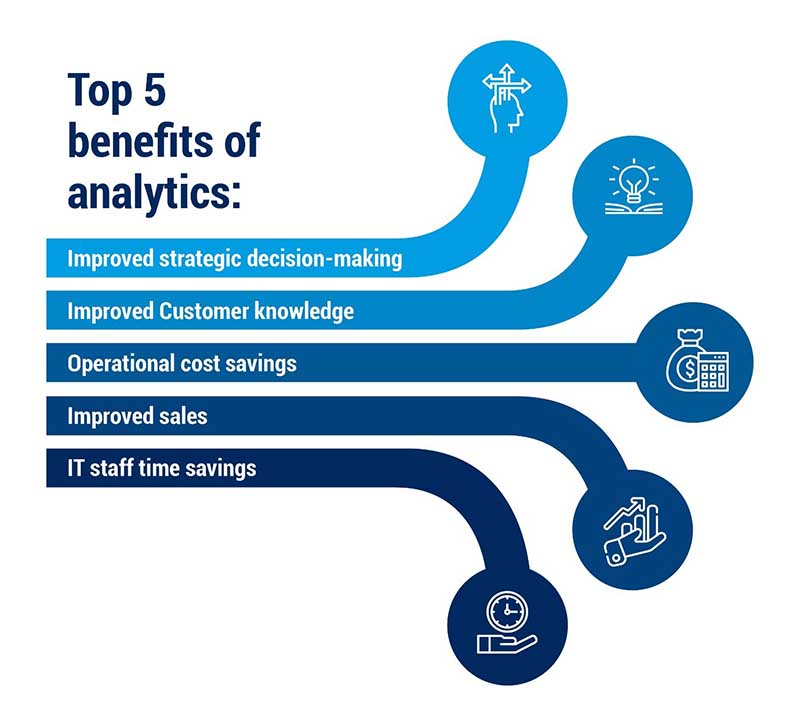 Here are some of the live examples for data analytics usage:
Education: Data has influenced this sphere to its maximum. From online algorithms to assessment and measuring results, the industry uses analytics.
Udemy uses data analytics to analyze learner search data across their site and inform instructors about emerging and trending topics.
BYJU's studies qualitative metrics for their product development and quantitative metrics as they roll out the product.
Consumer Packaged Goods (CPG): As Direct-to-consumer (DTC) services show an uptrend owing to the COVID-19 situation, the CPG brands are using data analytics to retain customer loyalty.
Fintech: Lendingkart, a fintech firm, has created a learning engine that can respond actively to model the changes in the given ecosystem and launch a variety of products quickly. Giridhar Yasa, CTO of the firm says that analytics has enabled their company to be agile and work optimally.
Sports and Media: Daryl Morey, president of basketball operations of the Philadelphia 76ers of the National Basketball Association uses analytics to recruit talent and to maximize player and team performance. Dependent on analytics, Morey's basketball strategy favors three-point shots and layups.
Having said that, businesses are finding more ways to inflow data, improving their storage capabilities, and looking forward to hiring specialists in data analytics who can mine their humongous data. Rightly, this is spurring the demand for certified data analysts across the globe.
If you are a newbie to a data science career who wants to become a data analytics specialist the industry looks for, then, investing in a data analytics certification would be the best bet for you!
As a first step toward your goal, you should know:
Who is a data analyst?
What are the main responsibilities of a data analyst?
What skills do data analysts need?
What is the salary of a data analyst?
Why should you consider a certification in data analytics?
Build your data analytics career with DASCA's big data analytics certification
Who is a data analyst?
Data analyst translates data into actionable business insights. They empower organizational leaders to make better-informed decisions by telling stories with data.
If you are a problem solver, then the data analyst job is fit for you! So, what are your responsibilities?
What are the major responsibilities of a data analyst?
The major responsibilities of a data analyst include:
Mining and cleaning of data
Designing and maintaining data systems
Troubleshooting of potential issues
Preparing reports
Communicating the findings to leaders and key stakeholders
What skills do data analysts need?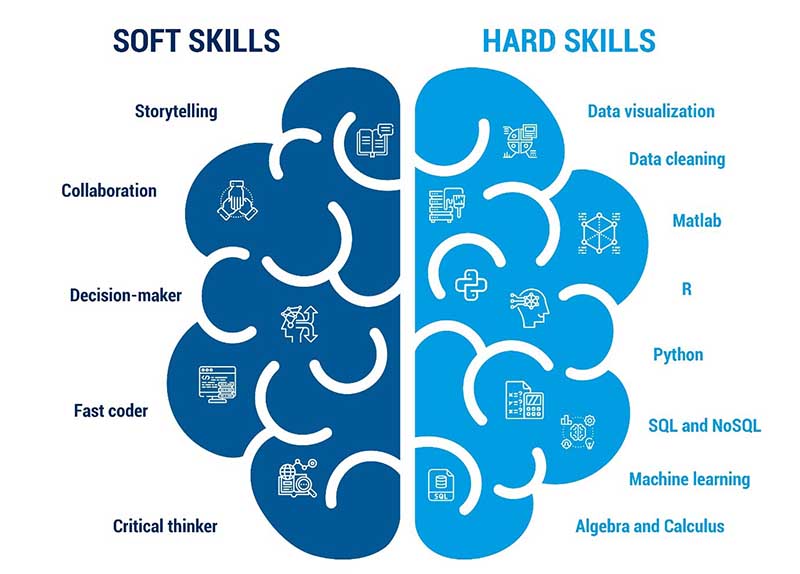 You need these soft skills and hard skills for the following purposes. A data analytics certification helps you to gain most of the hard skills mentioned here. You should hone your soft skills through experience.
SOFT SKILLS
Storyteller: Deliver a meaningful report
Fast coder: Surf huge datasets rapidly
Collaborator: Collaborate with other team members
Critical thinker: Analyze data, identify the pattern and extract actionable insights
Decision-maker: Summarize the data and solve the business problem
HARD SKILLS
Data visualization: Help decision-makers to understand complex ideas at a glance through illustrations.
Data cleaning: Prepare data for analysis by removing/modifying incorrect, incomplete, irrelevant, duplicated, or improper data.
MATLAB: Basic understanding of MATLAB is a must which helps to cut down the time spent on pre-processing of data.
R: Handle complex and large quantities of data.
Python: Stay current in an increasingly AI-concerned professional landscape.
SQL and NoSQL: Handle data in relational and non-relational databases.
Machine learning: Learning machine learning concepts helps you to become competitive in the hiring field by being able to solve complicated problems.
Microsoft Excel: Automate commands and features so as to analyze data better.
Algebra and Calculus: Theoretical knowledge is essential to understand what underpins real-world analytical practice.
What is the salary of a data analyst?
According to PayScale, the average salary of a data analyst is USD 61,456 per annum.


Top 10 Employers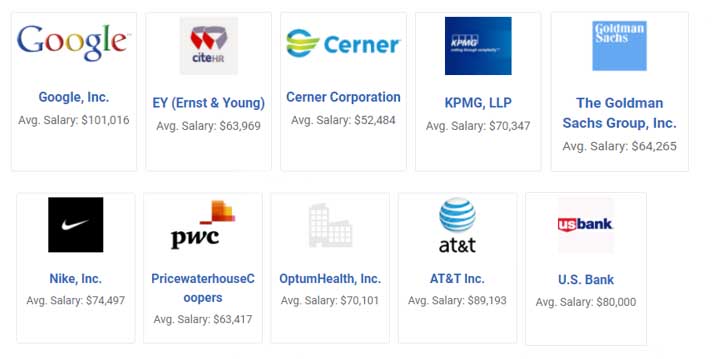 The career path of a data analyst

Typical Career Path of a Data Analyst
Source: PayScale
Why should you consider a certification in data analytics?
If you are a working professional, then it's a way to demonstrate that you invest your time in continuous learning for your immediate manager and the big boss.
Likewise, if you are a beginner, then the data analytics certification shows your future employer that you have working knowledge about data analytics, even if you don't have job experience.
Apart from this, let's understand other benefits of certification.
Stay current with the industry trend
Earning certification enables a candidate to stay current with the trends and practices. It expands your knowledge base and helps you to get promoted or join other big companies.
Become eligible to work in various industries
The skills developed helps you to work in new industries. With a data analytics certificate, you will have many avenues to explore such as finance, retail, healthcare, and entertainment.
Get noticed by hiring managers
Earning a certification shows that you are serious about your career. Also, many professionals have a minimum of 2 certifications these days. With certification, you will get easily noticed by hiring managers.
Organizations prefer candidates who have certifications from well-reputed institutions or organizations. It is evidence of your high standards of education.
On-the-job learning helps you to update with new skills while earning. You need not leave a job for a certain period to upskill yourself as most of the certifications are online with self-paced learning options.
A candidate with a certification always earns more than his non-certified peers and gets promoted easily.
Now, you know, who is a data analyst and why certification is important. Moving forward, let's understand about the most popular data analytics certification available in the market.
Build your data analytics career with DASCA's big data analytics certification
The big data analyst certifications provided by the Data Science Council of America help professionals to use advanced analytics tools and techniques while managing the entire life-cycle of big data analysis.
DASCA provides two certifications in analytics - Associate Big Data Analyst (ABDA™) and Senior Big Data Analyst (SBDA™). It is apt for students graduating with majors in Statistics, Applied Mathematics, Economics, or related disciplines wanting to make an exciting career in Data Science.
These certifications form the major international qualifications for business analysts and marketing analysts as well, as they upgrade their professional practice. The certifications are accredited by the American National Standards Institute (ANSI) and/or the National Commission for Certifying Agencies (NCCA).
The certifications enable the big data analysts to possess proficiency in data analysis and enable them to aggregate, transfer, sift and analyze big data. It helps professionals to meet the ever-changing expectations and needs of employers worldwide.
The certified professionals are proficiently able to:
Design analysis models
Interpret data significance for business intelligence
Manage huge data
Migrate data
Prove your potential and proficiency in big data analytics by earning these certifications. You can learn more about DASCA certifications here.
Conclusion:
The U.S. Bureau of Labor Statistics (BLS) anticipates that data-related jobs will grow by 12 percent by 2028 from 2020, leading to 546,200 jobs. Also, top organizations are hunting for qualified professionals to fill their vacant positions.
This is high time to obtain the specialized skills the industries are looking for. Earn the industry-recognized certification, gain the right expertise, and get hired for top global companies.