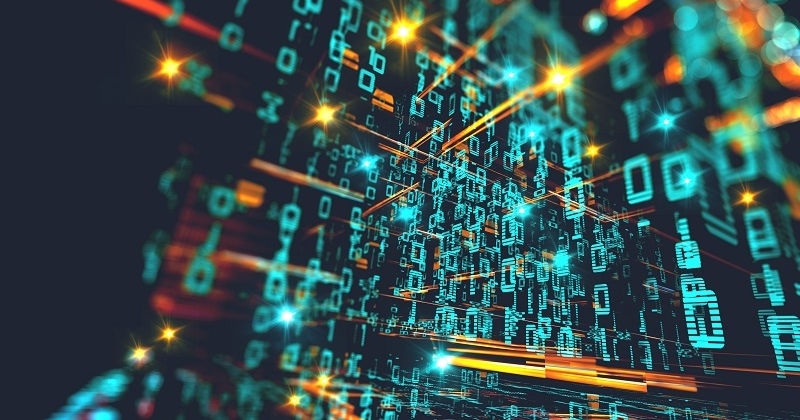 In its post-Great Recession analysis, Bain & Company found 3,900 companies that "posted double-digit earnings growth, on average, from 2003 to 2007." But soon as the recession storm hit, their
"performance diverged sharply: The winners grew at a 17% compound annual growth rate (CAGR) during the downturn, compared with 0% among the losers. What's more, the winners locked in gains to grow at an average 13% CAGR in the years after the downturn, while the losers stalled at 1%."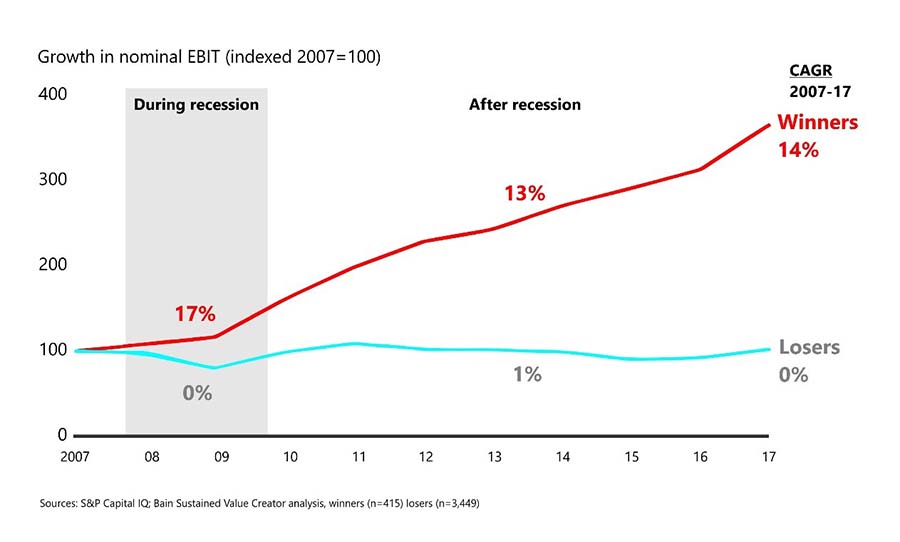 The trend extended to almost over a decade. Here' what it looked like in 2017: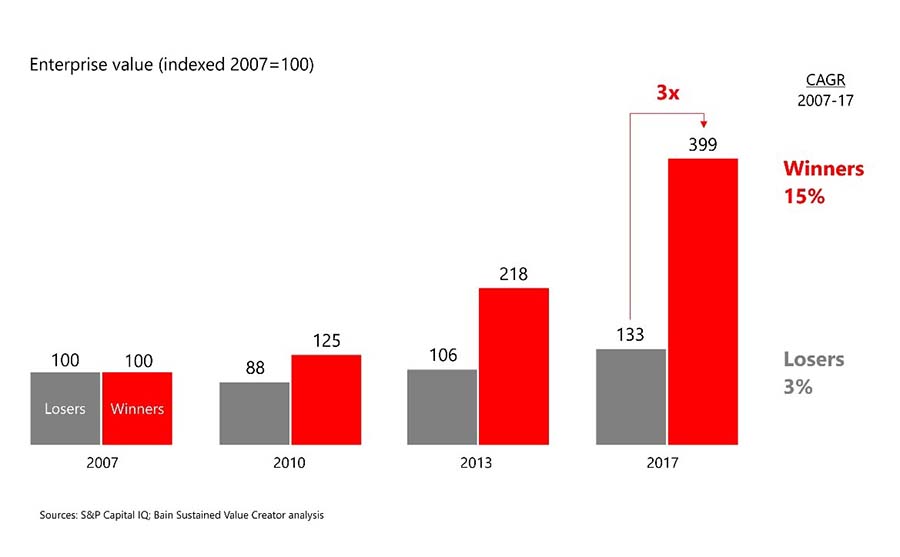 Recessions tend to escalate strengths and weaknesses thereby widening the gap between leaders and laggards. They strikingly set apart winners from losers. This wasn't always the case. Not until data came into limelight.
So what has changed?
A Shift from Intuition to Insight
Conventional business leadership- as explained by the Nobel prize winner Economist Herbert Simon- has largely been of "bounded rationality". Or in other words of projecting the past endlessly into the future. Whenever uncertainty hit the decision-makers dug into their past experiences and pulled the tried and tested remedial strategies. These judgment shortcuts, aka heuristics mostly led them to "reduce investment, freeze hiring, slash marketing and brand investments, avoid entering new markets, and sometimes stop making decisions altogether" (strategy+business).
Data has changed this dynamic. While these defensive strategies may have barricaded failures in the past, now agility wins over defense. Two factors largely contribute to this shift:
# 1
The nature of uncertainties has changed. While conventional impediments were confined around economy, region, cost and a handful of other parameters, Business strategists today are leading the uncertainty war at multiple fronts.
Take a look at the big picture presented by Bain & Company: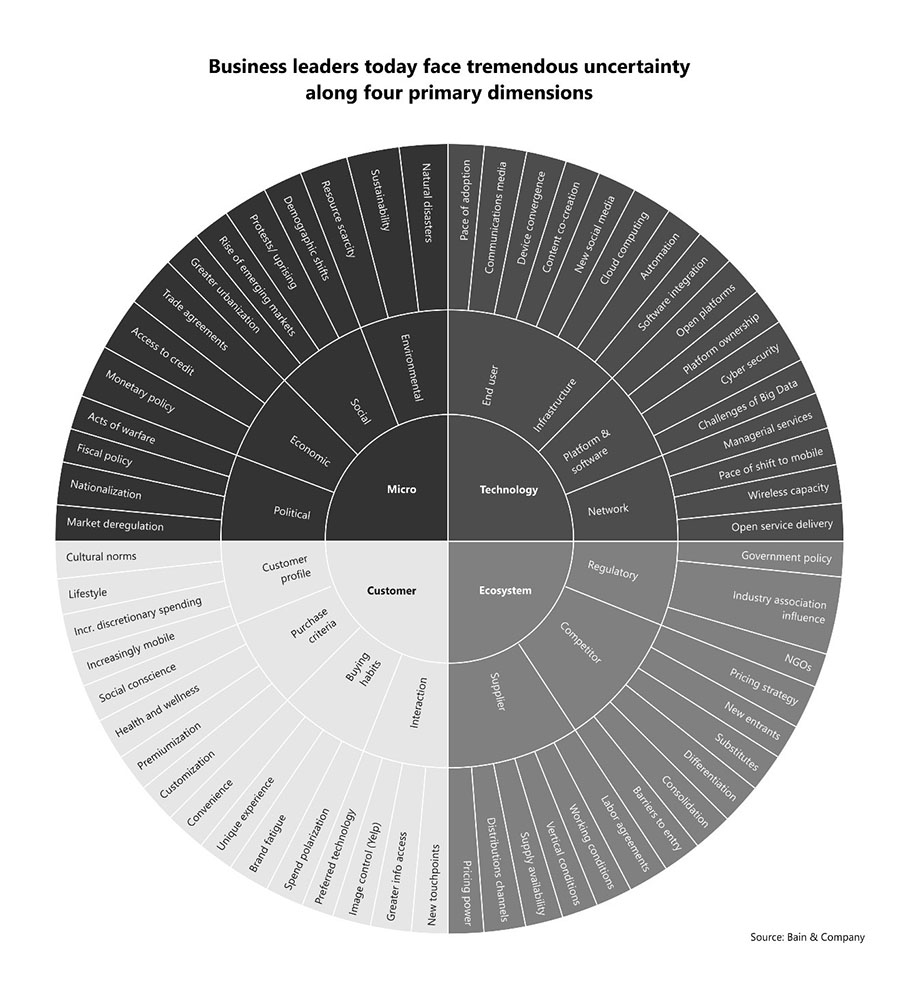 #2
The way organizations respond to uncertainties has changed. With data backing them, strategists can now project the impacts of not just the economic influencers but also of developments in other regions and tweak their strategies in real-time and with super-human abilities.
Why Data is Integral to Future Success of Organizations:
If there's one thing businesses have learned the smart or the hard way, it's that businesses in 2020 and beyond cannot survive without data. Big Data and machine learning have given an unparalleled extra-edge in scenario and financial planning that human expertise is unlikely to match anytime soon. Copious studies from thought churners like McKinsey, HBR and Bain & Company have shown that "analytics-based businesses" have an edge over the conventional businesses.
Fifty-seven percent of respondents from high-performing companies in the McKinsey survey said their organizations tweak their long-term strategies to respond to data and analytics.
Organizations that have integrated data-backed decision making in their culture are 1.5 times more likely to show revenue growth.
Forty-seven percent of respondents in a McKinsey survey said "data and analytics have significantly or fundamentally changed the nature of competition in their industries in the past three years."
Data is the invisible thread connecting almost every topline function of the organization. It is changing competition in multiple ways. Take a look at the results of the McKinsey's 2017 survey: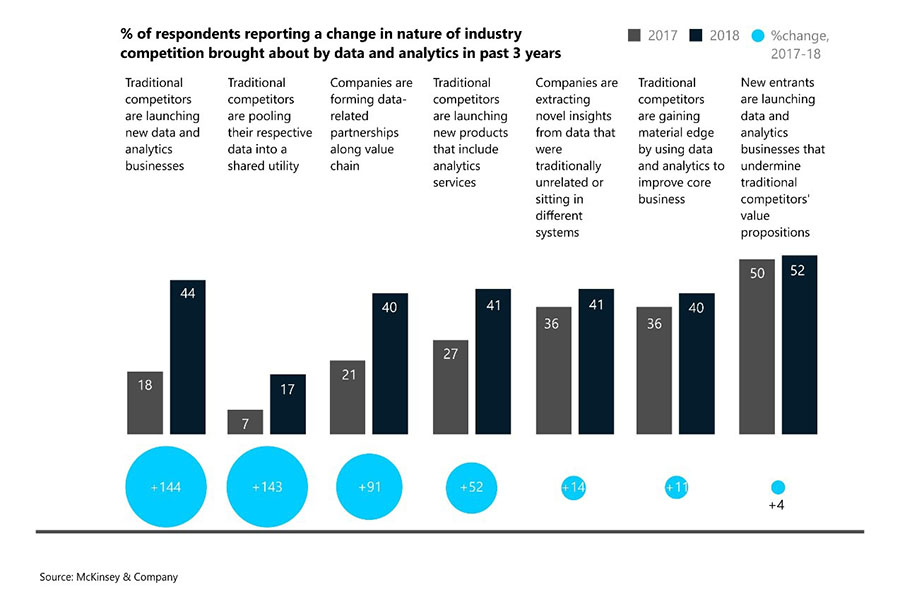 Challenges in Building a Data Driven Culture:
But building a data-backed culture is easier said than done. A majority of respondents in the McKinsey survey say their organizations have not accomplished their data and analytics objectives cite lack of strategy as a prime impediment. 21% of respondents say that having a strategy will ensure the success of their organization.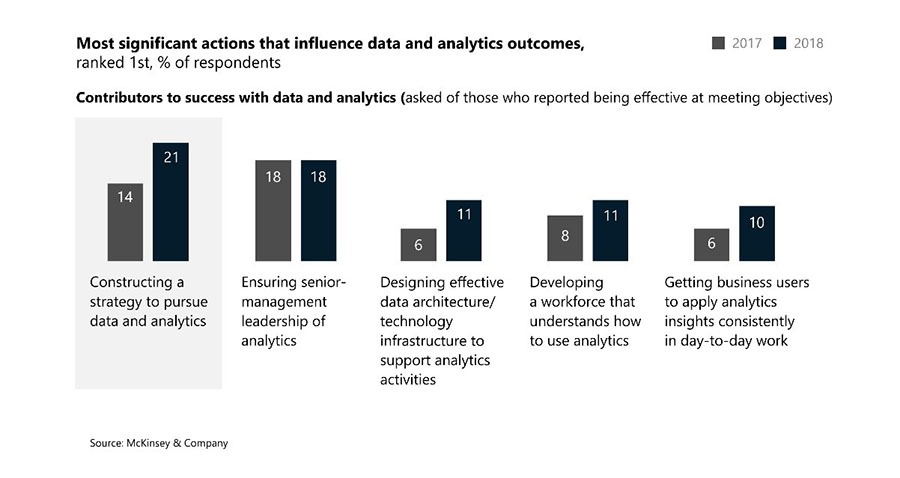 Data driven culture demand a threshold of data literacy. In the 2017 survey, many C-suite respondents cited shortage of data-literate talent as a prime impediment to the realization of their plans. Data scientists and translators top this list.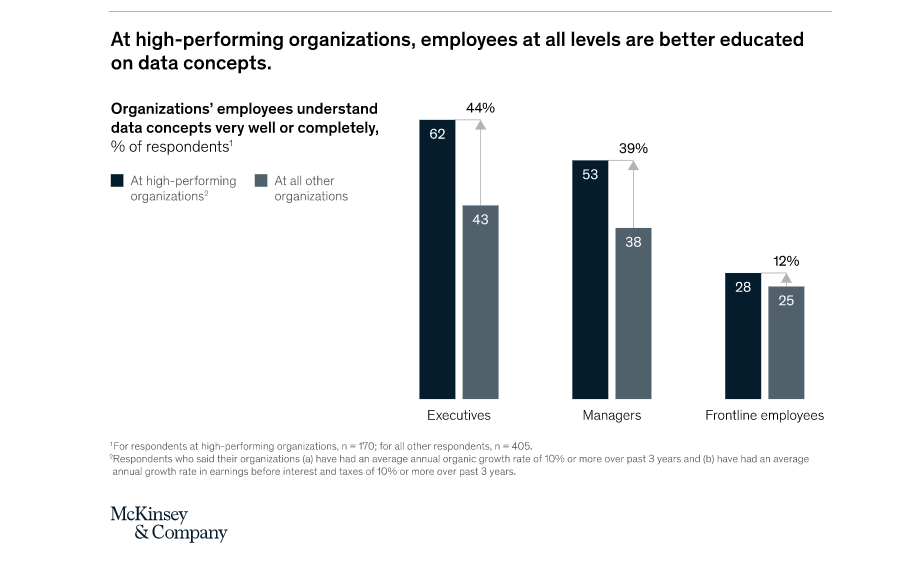 3 Takeaways:
#While automation is spreading its reach to most digital tasks, data management is still largely a human –driven activity and is likely to remain so in the years to come.
#The higher an organization is performing, more rigorously it seems to be utilizing its data.
#Data has emerged as the sole competitive distancing factor between organizations.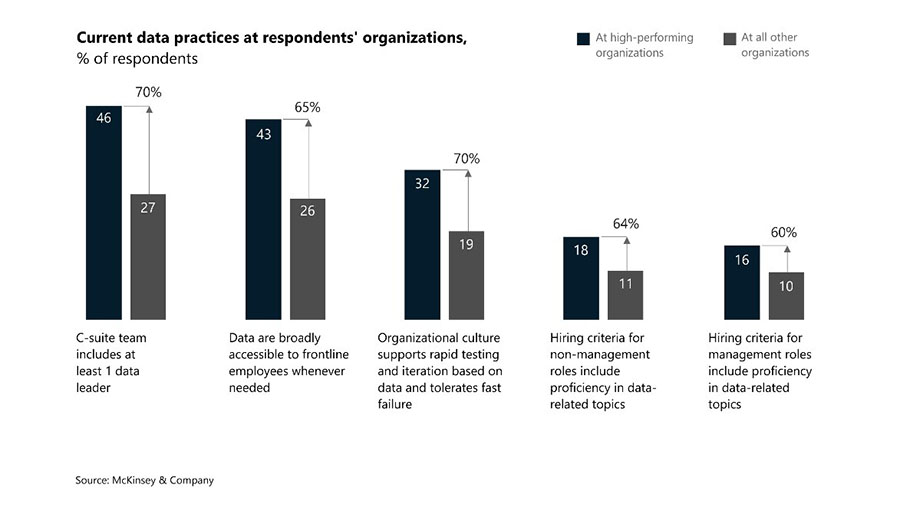 Organizations are working to solve their skill challenge. They are veering away from their sole dependence on external hiring and sourcing talent from multiple sources. Amazon, as a part of its Upskilling 2025 program, is spending USD 700 million to upskill its employees in technical skills. Those who have their skills in place are framing data and analytics policies for long-term. Data is no more a resource, data is a mindset now.
Are you ready to join the high-performers' league? Get your talent DASCA certified!